See more of the Seychelles's flora, fauna and marine diversity and discover the individuality of its islands with an island-hopping trip before you head to the beach.Ranked as Best Outdoor Activities in Praslin Island by Trip Advisor.Geoli Boat Charters offer full-day Praslin-based boat excursions, Private Charter boat and snorkeling trips & fishing trips. They are offering excursion trips to the Curieuse & St Pierre.
TRIP DETAILS:
Boat Type: Glass Bottom Boat
Departure & Return point: Anse La Blague, Praslin.
08:30 to 09-15Start with inclusive pick up transfer from your hotel and drop off straight at the boat.
09:30:- We start off the day with our first snorkel stop, and get you home with nature
11:30:- Land on Curieuse Island (Anse Jose) relax a few minutes and then set off on a guided walk on the 1.7km Trail to the other side of the Island (Base Late)  where the giant tortoises awaits you for some nice selfies.
13:00:- Enjoy a nice BBQ lunch and while relaxing to island life, where you get to experience the local Cuisine.
14:00:- Depart for some photo shoot of the picturest St Pierre Island.
14:30:-Enjoy the wildlife of Anse La Farine while snorkling its amazing reef. Relax on the beach with a robinson Cruseo feeling  from the isolation of the outside world. And to finish of a local Takamaka rum cocktail to end a perfect day.
16:00Back to base with Transfer back to Hotel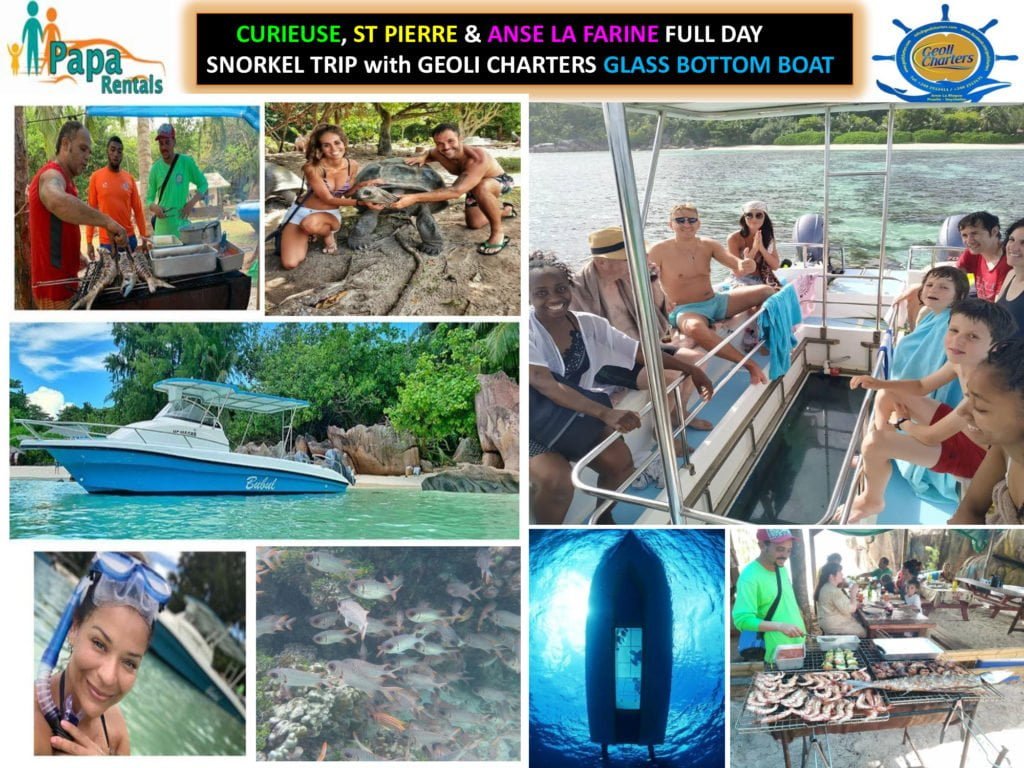 TRIP DETAILS:
You must have definitely heard about fishing in Seychelles.
Here at Geoli Charters we are fanatics of fishing. It's our sport and we want to share that with you.
We do big game trolling and bottom fishing. You can opt for a half day (5Hrs) to a full day (8Hrs) or a combo of Fishing & Island hopping. The latter is a stopover Curieuse Island for a BBQ lunch and some snorkelling in the afternoon.